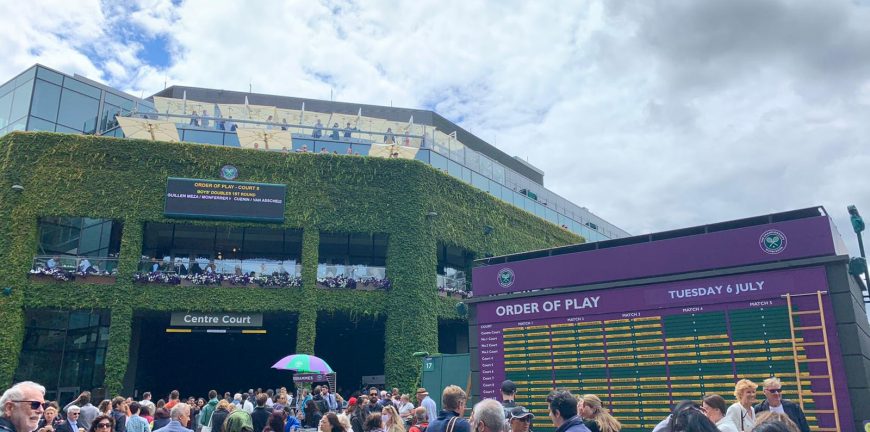 Debenture day at Wimbledon with smiles all round
Last week our team members Amy Seed and George Hampson headed down to Wimbledon to get an insight into what our guests will experience there and to be on hand to ensure the smooth running of the new digital ticketing process.
Here is how their day went…
With an early start getting the train at 7.35am from Harrogate, eventually arriving at Wimbledon at just after 11am, the excitement was already starting to build.
Very efficient covid checks were in place with either 2 vaccines or proof of a negative lateral flow test were required. Once we gave this information to the stewards, we were given wristbands to show that we had been checked, which was reassuring for all the spectators. Masks were optional but advised to be worn in the debenture lounges and around 10% of the crowd wore masks, which was interesting to see how the future of large sporting events may look.
In the spirit of great British weather, the forecast was intermittent rain and sunshine, which was the perfect reason why debenture tickets are so important at Wimbledon, as outside courts were rained off for the majority of the day. Debenture allows access to several restaurants and lounges as well as enjoying the tennis undercover on centre court and is something we prioritise for all our clients.
The new digital ticketing process, which was only launched a few weeks prior to the event overall worked well and was a smooth process on the day. However, for the few technical challenges that did arise, we were glad to be there in person to support our clients.
Prior to the day:
All guests were provided with instructions to download Wimbledon 2021 app.
Impulse Decisions transferred the tickets to client's personal app one week prior to day of arrival.
Tickets could either be transferred to each guest, or a lead guest could hold all tickets and just assign individual names to each ticket.
On morning of day of arrival, tickets were updated with a QR code which was scanned at gate 3 on arrival.
A simple process, that worked very well and allowed minimal contact to be covid safe.
Once in the Wimbledon grounds, tickets were then needed for access to debenture lounge and to seats at centre court.
The way the whole event is run was fantastic, from the level of customer service in the debenture lounge bars, to the stewards that show you your seat, there is a friendly atmosphere about the whole event. With the debenture tickets you get access to several bars and restaurants which are split across 5 different floors (including a rooftop bar) all with large glass windows and panoramic balcony views over the Wimbledon grounds. The Renshaw restaurant was a fabulous place for pre tennis lunch offering a wonderful hot and cold set menu, afternoon tea and a complimentary bar throughout the day.
The fact that it was the first full capacity event in the UK since covid began gave it an extra edge and you could feel it in the air! The seats were amazing, right behind the server's arm about 20 rows back.
Now for the main event – the tennis!
Brilliant to see the first match start with H.Hurkacz (14th Seed – Poland) v D.Medvedev (2nd Seed – Russia). A close game with high tension, and of course strawberries and cream and some fizz!
Finishing the day with the 3rd Round of Ladies Doubles which was scheduled to be on Court 1 but was moved to centre court due to rain.  Coco Gauff (17 years old) & Caty McNally (12TH Seed – USA) v E. Vesnina & V.Kudermetova (No Ranking – Russia). It was a close match with Russia winning in the end. Brilliant to see the crowds so enthusiastic towards both sides.
With a trip to what George calls "One of the best sports merchandise shops in England", our day was complete, and we headed home satisfied that we had looked after our clients well.  Getting feedback like below absolutely made our day.
"Top day out yesterday – really enjoyed it! Can see it becoming a regular little trip. Thank you for organising everything and we will certainly be using you guys again." – Wimbledon 2021 Guest

"Impulse sorted our debenture tickets to Wimbledon last week and I have to say they were an absolute delight to deal with. Communication fantastic and a superbly organised day out. Will certainly be back in touch to arrange future days out." – James Mann, Director at Steve Mann Caravans Limited

"I just wanted to say thank you to you and the team at impulse for getting everything sorted so smoothly today – we really had a fabulous time with a lobster lunch and a cream tea – not to mention a great mixture of men's, women's and doubles tennis on the court. Great  communication over the last 18 months and support with last minute questions over the last few days – all very reassuring. Top job, thank you." – Paul Windsor

"Amy Seed was our most helpful contact and held our hand through the ticketing procedures and met us at Wimbledon to ensure we had no problems or queries.  She could not have been more pleasant and professional throughout.  Having been to Wimbledon several times before we were delighted that its charm was undiminished by covid issues, and despite the poor weather we spent a most enjoyable day in the Debenture Courtside restaurant and other areas available to us. Of course, the tennis was excellent!". – Michael Hayden