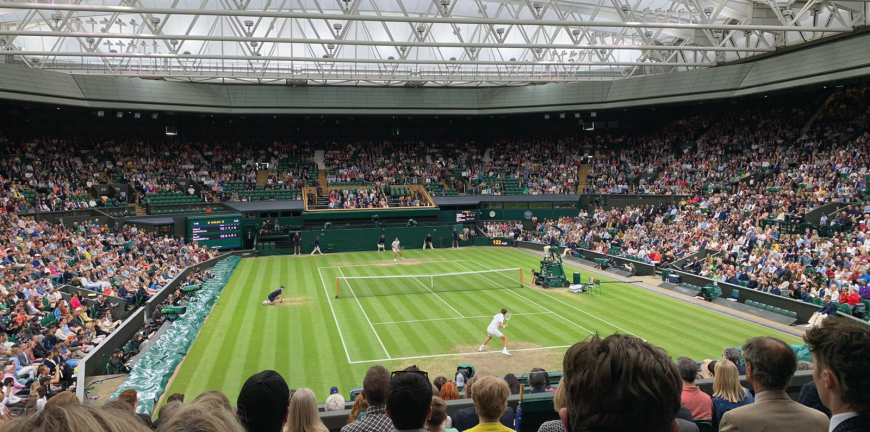 The return of live events – Euro 2020 and Wimbledon
We are delighted to see the return of live events this month.
Adhering to all Covid-safe procedures, we organised hospitality for England's Euro 2020 matches and the Wimbledon Championships 2021 – taking place as a pilot event in the third phase of the UK Government's Events Research Programme (ERP).
Euro 2020
Guests were invited to a private screening to watch the early England games at the 'Impulse Decisions Sporting Club House' – Cold Bath Brewing's private function room which has a newly refurbished bar, to help raise money for Sands and Harrogate Hospital and Community Charities.
Guaranteed a view of one of our three large screens and seated in tables of four or six, each person was treated to three complimentary pints and a burrito as well as entered into a free prize draw.
Zach Greaves from Artus Digital Media attended and said:
I couldn't think of a better way of celebrating the start of England's Euro campaign. A really enjoyable afternoon with a great view of the screen, fab beer and a tasty burrito the size of a small animal! Thanks to the team at Impulse for putting on a fantastic event!
Tom Hesketh, our Director of Hospitality Sales said:
What a way to kick off the Euros at our very own Impulse Decisions Sporting Club House. We created a safe and exciting private screening event at Cold Bath Brewing which has been a huge success.

As self-proclaimed football enthusiasts here at Impulse, we know fans have been looking forward to this tournament for a long time. It has been a pleasure to host this seated event with the help of two wins and a draw from England, we have had nothing but great feedback from our guests who attended the event.

We look forward to hosting similar events in the future and we are keeping our fingers crossed for eased restrictions.
It was great to see people happy attending a local event supporting local businesses and one of Harrogate's favourite breweries.
Like most football fans, we were delighted with England's win 2-0 win against Germany, and are looking forward to supporting the team as far as they can go.
Wimbledon 2021
The Wimbledon Championships 2021 has been approved to take place as a pilot event in the third phase of the UK Government's Events Research Programme (ERP).
We are selling tickets for the event which started on Monday 28 June. Contact Amy for further information: amy.seed@impulsedecisions.com
All guests need to follow strict entry requirements and provide consent to participate in the ERP's science-led programme.  This year, all tickets will be electronic and accessed via a mobile phone.
The only tickets that can be legally bought and sold for Wimbledon are Debenture tickets – these offer the very best views of the court. Prices start at £395+VAT per person and all Debenture tickets come with access to the Debenture Lounge, which includes bars, restaurants, and luxury cloakroom facilities very close to the court.
Amy Seed, our Events and Operations Manager said:
We are delighted that the Wimbledon Championships 2021 has been approved to take place as a pilot event in the third phase of the Government Events Research Programme.

This year tickets are being distributed via the official Wimbledon 2021 app and we aim to make this transition to digital ticketing as seamless as possible for all involved.

Since the announcement was made, we have had brilliant uptake on tickets which is exciting and a step in the right direction for the full return of safe events.
To find out more, email: info@impulsedecisions.com or call: 01423 531 682.