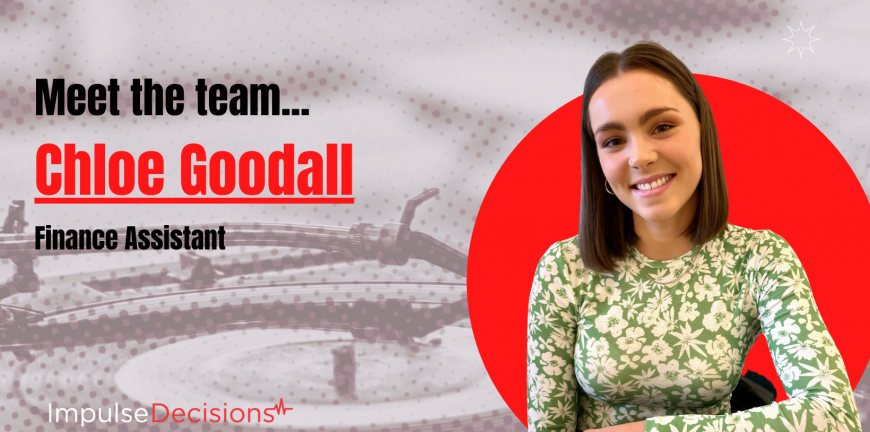 Meet the Impulse team – Chloe!
Name: Chloe Goodall
Role: Finance Assistant
What does your role involve at Impulse Decisions?
My daily tasks are never the same which I love as I'm always kept on my toes. My day can include producing financial reports, liaising with suppliers, taking payments from customers, and contacting charities to let them know how much their events raised through our silent auctions.

I'm also studying to become a qualified ICAEW Chartered Accountant, therefore trying to juggle work/studying/socialising can be a little hectic but I'm thoroughly enjoying the challenge!
What did you do before you joined the team?
In July 2019, I'd just graduated from Birmingham City University with a bachelor's degree in Fashion Business & Promotion. I came out of university thinking I wanted to be an Event Manager, hence why I ended up at Impulse Decisions, however, the job didn't quite seem to fit. When an opportunity arose for someone to join the accounts department, I grabbed it and decided to turn my interest in maths and business into a full-time career.
What is your favourite part of the job?
My favourite part of the job has to be working as part of such a close-knit team; these guys are practically my extended family! We all want the business to succeed, therefore we work hard but we most certainly play hard when we get some time off together each month for our work social.
If you weren't doing this role, what else would you like to do?
A long term goal of mine would be to combine my love for fashion with finance and perhaps work within the accounts department for a major fashion brand in either Manchester or London.
Which events are you looking forward to the most in the next six months?
We've just secured a contract with Best Parties Ever to run silent auctions at more than a hundred Christmas parties all over the UK during November and December. After looking at the lavish parties they offer, it's an exciting opportunity for us all to work at such exciting and exclusive events, particularly after 18 months of no partying!
Who would you most like to involve in an event?
Those that know me would say I'm a bit of a party animal, so to get to see any world-renown DJ perform at an event would be amazing. Unfortunately, it's yet to happen but I can safely say that if it does, I'd be more than happy to work that event!
Who would you most like to have a drink with and why?
It would have to be the legendary Radio 1 presenter and DJ Annie Mac. Not only does she seem to offer some of the best life advice, but she also certainly knows how to bring a room to life and have a party!