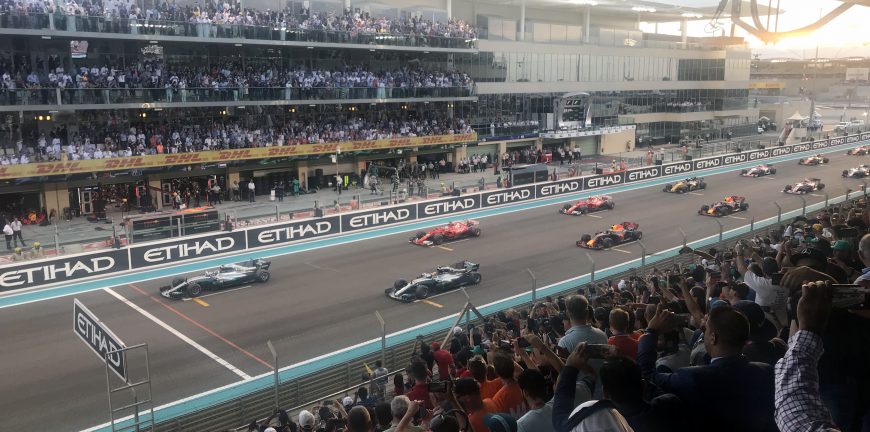 Our Top Three Oversees Grand Prix Events
If like us, you're a fan of the Grand Prix, you'll have been as excited as we were about its return this year. To celebrate we thought we'd pick out our top three overseas races.
Monaco Grand Prix
 The motor racing event held annually on the Circuit de Monaco, in late May or early June has a long history. First held in 1929 and run through the streets of Monaco, it is considered to be one of the most prestigious races in the world.
We love taking fans to the event and our package offers three nights in five-star luxury accommodation at the Grand Hyatt Martinez Hotel in Cannes. As our guests, you can take a Champagne Cruise along the French Riviera on Saturday afternoon ahead of the main event on Sunday for which you have Grandstand Tickets. It's a truly unforgettable Monaco Grand Prix experience.
Here are few things our clients have said about previous events:
"Faultless from start to finish. The itinerary flowed, nothing was scrimped, so well organised and executed. So impressed with the team, so friendly, happy and helpful. Fantastically competent young people, credit to the company." – May 2019

 "I thought the whole weekend was outstanding. The fabulous hotel and staff were unbelievably attentive. P.S. good of you to lay on the film festival!" – May 2019

"Thanks for a very enjoyable weekend, the organisation and quality of events organised were superb!" – May 2019

"The whole trip exceeded expectations. The support pre-departure was good, with quick replies to any queries we had. Once in France, all events were managed really well. Things happened on time and again the team on-site with terrific – friendly and very professional. The boat cruise was also far better than we expected. there is no doubt the fact the Cannes film festival was also taking place helped the experience but we were very impressed with Impulse Decisions overall." – May 2019

"We had an excellent weekend in Cannes/ Monaco and find it had to think of how the experience could have been improved. Your staff were marvellous and you should be really proud of them. Brilliant experience all round. Particular highlights were the riviera cruise and the Grand Prix." – May 2019

"Great team who clearly knew how to organise such an event and looked happy to be working with one another to make the client experience as positive as possible. Enjoyed the whole experience from the boat trip which far exceeded our expectations to the Grand Prix itself. Having the film festival on at the same time as a bonus as can had that extra buzz." – May 2019

"The weekend as a whole has to rank with the best ever for Chris and I. It was certainly one to remember. Thanks to everyone at Impulse who was involved in putting the trip together and looking after us whilst we were there." – May 2019
Singapore Grand Prix
First held in 1966, the Singapore Grand Prix takes place on the Marina Bay Street Circuit and was the inaugural night race and first street circuit in Asia designed for Formula One races.
We love taking guests to the world's only Formula 1 night race in this beautiful location. After greeting them at the airport we offer a welcome drinks reception and three-night five-star accommodation in the heart of Singapore.
As well as Connaught Grandstand Tickets for Friday, Saturday and Sunday, we provide a sightseeing tour pass of Singapore, tickets and an access-all-areas pass to Zone concerts and entertainment across all three days and a choice of Podium Lounge access or $200 Raffles Hotel Credit and three days of live entertainment
This is what a previous guest said about this event:
"From arriving in Singapore everything was seamless. The hotel transfer, hotel, tickets, communication were all first class. Everything was very well organised. Although Aimee and Tom were available we never actually met them which says a lot about the trip. We were provided with all the information we needed to go out and enjoy everything that Singapore had to offer. Would definitely recommend!" – Singapore GP 2019
Abu Dhabi Grand Prix
With a shorter history, the Abu Dhabi Grand Prix was first held in 2009 and it was Formula One's first day-night race. Floodlights were switched on from the start of the event to ensure a seamless transition from daylight to darkness. Subsequent Abu Dhabi Grands Prix have also been day-night races.
To enjoy the best of this race, we provide guests with accommodation at the fabulous five star Fairmont Bab Al Bahr Hotel and start/finish line tickets.
We also provide an official F1 brunch where you can watch practice laps with free-flowing drinks and gourmet food prepared at live cooking stations.
As well as that, we also offer a 'Thursday Pit Lane Walk', a half-day desert safari – which includes 'Dune Bashing' and a traditional BBQ dinner and Arabic show under the stars AND tickets to the after-race concerts. An incredible experience.
If you'd like to attend an oversees Grand Prix or simply find out more about the packages we offer, email: info@impulsedecisions.com or call: 01423 531 682.