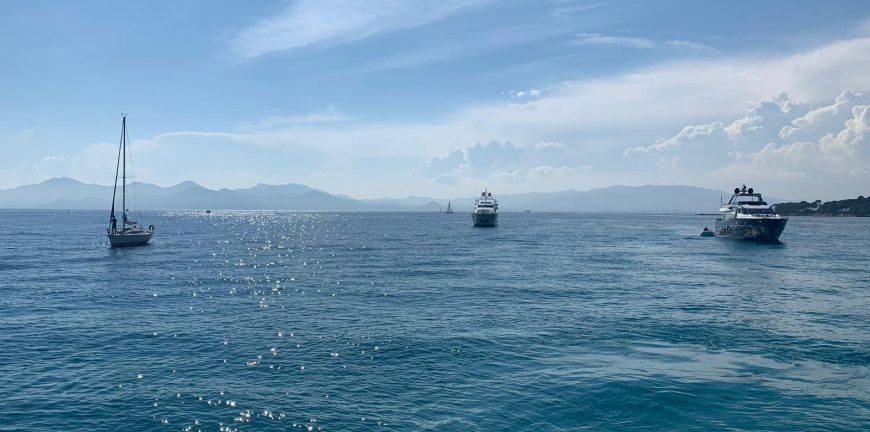 By

impulsedecisions

Cause in
Monaco Grand Prix Experience, May 2019
Monaco 2019 Blog
For the seventh year in a row Impulse Decisions welcomed a group of our Formula 1-loving clients to the South of France for an unforgettable experience. A weekend made up of complete luxury, 5-star hotels, a champagne cruise and of course the infamous Monaco Grand Prix. Most certainly a weekend not to miss!
Our guests were again treated to 3 nights in the newly refurbished 5* Martinez Hotel, Cannes. This year the hotel had an extra special atmosphere due to the fact that The Martinez was hosting the World Blogger Awards as well as guests from The Cannes Film Festival at the Palais Des Festivals. The appearances of film stars and celebrities alike, meant that our guests were welcomed at the hotel by a swarm of paparazzi, making their stay rather memorable, to say the least.
On the Saturday, guests had the choice of attending either the Grand Prix qualifying or joining us on a stunning 22m catamaran for a luxury champagne cruise down the French Riviera.
Guests that opted to go to qualifying boarded their transfer to Monaco in the morning and made their way towards the action. A great opportunity to see Monaco in all its glory before the eagerly anticipated main event the following day. One of the more important qualifying days in the Formula 1 calendar due to the narrow nature of the windy streets of Monaco, Hamilton secured pole position and set up a perfect platform to win on Sunday.
Guests that chose to spend their Saturday afternoon on the boat, enjoyed a leisurely cruise down the French Riviera whilst absorbing the glorious sunshine. The catamaran boasted a large selection of canopies and drinks, which some made more use of than others. Our guests were given the opportunity to make the most of the crystal-clear waters by making a couple of stops for swimming, kayaking and paddle boarding.
On Sunday morning guests made their way to Monaco ahead of an action-packed day at the Grand Prix. Although the weather was not as glorious as the day before, our clients were still in high spirits ready to tick the Monaco Grand Prix off their bucket list. With plenty of time to soak up the pre-race atmosphere, by 3:15 our guests were pumped and ready for 78 laps of non-stop action with the brilliant views from the grandstand. Mercedes driver Lewis Hamilton was favourite for the race having qualified in pole position on the grid, not to mention having previously won 3 races in Monte Carlo. However, the courageous efforts from the young Dutch driver Max Verstappen made the race all the more exciting, nearly putting Hamilton in danger. Fortunately for our guests and Hamilton supporters it was a great success, with Mercedes taking 1st place.
A fantastic weekend had by all, made even sweeter by a Hamilton victory. Thanks to all our guests that joined us, and we hope to see you on another trip soon!
"The weekend as a whole has to rank with the best ever for Chris & I. It was certainly one to remember. Thanks to everyone at Impulse who was involved in putting the trip together and looking after us whilst we were there."
"Faultless from start to finish. The itinerary flowed, nothing was scrimped, so well organised and executed. So impressed with the team, so friendly, happy and helpful. Fantastically competent young people, credit to the company."
Monaco GP Clients, May 2019
For more information on next year's trip, please contact tom@impulsedecisions.com