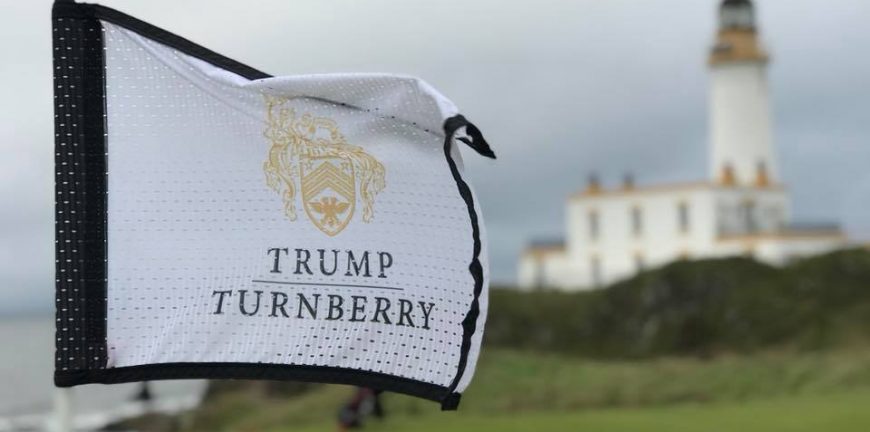 Turnberry 2021 – Sun and smiles in Scotland
In October, we hosted a private golfing event at the world-famous Turnberry for 48 guests.
Ranked in the Golf Digest top 100 courses in the world, the Trump Turnberry golf course is situated on a beautiful peninsula of links land on the west coast of Scotland.
The weather was fresh and there was a fair bit of wind as the course, which is widely regarded a the best in the UK, is right next to the sea, but the sun shone all day.
Twelve teams took part in the event playing on the 18-hole Ailsa course.
The day started with registration, teas, coffees and bacon sandwiches and each team received a branded woolly hat, a sleeve of golf balls, KitKat, water, Trump Turnberry pouch with a scorecard and tees plus a layout of the day.
The first tee time was just after 11.15 am when each guest received a mini malt whiskey. Turnberry had opened the halfway house just for us so everybody could enjoy some soup. (It's been recently closed due to Covid.)
An evening of eating and entertainment
Once the golfing was finished for the day, a champagne drinks reception started at 7:30 pm followed by a four-course dinner and an evening hosted by Andy Ashworth.
The BBC sports presenter has fronted more than 2000 events from business presentations, conferences, awards ceremonies, gala dinners, summer balls, international sporting events, competitions, sporting dinners and golf days so he was a calm and relaxed host but highly entertaining.
Our guest speaker was Dean Saunders, a former Welsh football manager and professional footballer who played as a striker. He had many personal stories from his career all delivered with great enthusiasm.
Guests also took part in a game of heads and tails and one lucky winner took home two tickets to the England v Tonga game at Twickenham.
The results
After dinner was prize-giving for the day – the moment everyone had been waiting for.
First place went Joe Hutchinson and his team on 98 points. In second place was Harvey Laud and his team on 91 points and third place went to Graeme Lee and his team 91 points. The winners were awarded Turnberry branded clothing, bags and champagne.
We were thrilled to be able to host this prestigious event and look forward to doing so again.
A few words from our delighted guests:
"I just wanted to reach out and say thanks to you all for hosting a fantastic event at the Turnberry earlier this week."
To find out more about the golf packages we offer, email: info@impulsedecisions.com or call: 01423 531 682.