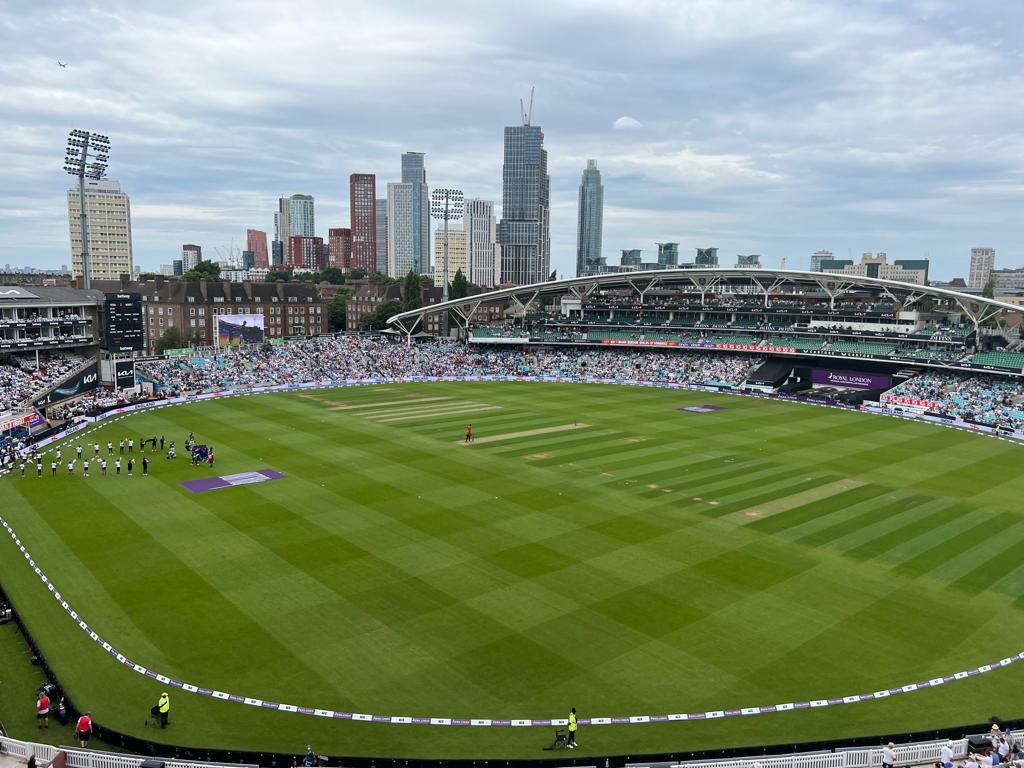 Watching the cricket at the Kia Oval
We work on several events with the Professional Cricketers Association (PCA) providing a silent auction for them, so they kindly invited James, Will and Ben to go and watch the first of three one-day international series games between England and India at the breathtaking Kia Oval in the heart of London.
Ben tells us about the day.
Tell us about the day
We were fortunate enough to be invited by the PCA to the new Galadari stand on the Lock Terrace which has a fantastic bird's eye view of the ground. The terrace was buzzing with the chatter of around 200 people and there was a great mixture of England and India fans all excited to watch the game. The weather was perfect, 30 degrees but thanks to cloud cover and a nice breeze across the terrace it was a lovely temperature.
The results
Sadly, England's batters were dismantled in 20 overs and it only took another 20 overs for India to knock off 111 runs without a loss of a wicket. The Indian fans were in full voice and by this point and well deserved it was as India was the better team by far on the day. Thankfully, we had complimentary 'packed lunches' to keep us fuelled. In reality, it wasn't so much a packer lunch as a feast in a bag plus a complimentary bar including lager, beer, wine, cider and soft drinks.
Who you were with?
James, Will and I were there thanks to a lovely invite from the PCA which is a fantastic organisation that represents every professional cricket player across England and Wales.
They look after the cricketers and also run the professional cricketers trust which is a brilliant charity that aims to help any PCA members when they need it most. This has proved to be a lifeline for many players who have hit hardship in their lives.
Sum up your day
A privilege to attend an iconic ground and to have the opportunity to watch the game from such a great position.
Anything else?
The train ride home wasn't as fun!
If you're interested in attending any sporting events, please do get in touch with the team on 01423 531 682